Controversial Vanity License Plate Sparks Attention in California
A Bold License Plate Choice
A Toyota pickup truck owner in California has stirred up quite a storm with a custom license plate that has captured widespread attention. The seemingly innocuous plate, with the letters and numbers 3J0H22A, might not raise eyebrows at first glance. However, there's a twist that reveals the true message behind it. When the plate is reflected in a mirror, a rather shocking statement becomes crystal clear. Observers using their side mirrors or rear-view mirror will undoubtedly be taken aback by the unexpected revelation.
Navigating the Rules of Vanity Plates
The California Department of Motor Vehicles (DMV) has a set of guidelines dictating the appropriateness of vanity license plates. These personalized plates must adhere to certain rules, including not being offensive, not resembling existing plates, and avoiding the use of offensive or slang language in any language. Yet, the truck owner managed to craft a plate that dances on the edge of controversy. The plate ingeniously transforms into the word "A**hole" when seen through a mirror.
A Playful Bypass of the Norm
Personalized license plates offer a canvas for creativity, allowing drivers to manipulate letters, numbers, and characters. Standard personalized plates allow for a range of 2 to 7 characters. While the offensive wordplay might garner disapproval, it showcases the lengths some individuals will go to make a statement or provoke reactions.
Anticipating Public Reaction
Undoubtedly, this daring license plate choice will spark strong reactions from the public. Displaying a message as blunt as "A**hole" isn't socially acceptable, and the aftermath will be telling of the DMV's response. It remains to be seen if the DMV will take action against the driver for their unconventional choice. In the meantime, the pickup truck owner is bound to attract considerable attention and, most likely, some heated conversations on the road.
A Familiar Trend
This isn't the first time drivers have manipulated license plate messages to evade DMV regulations. In another instance, a car owner managed to craft a vanity plate that spelled out a controversial curse when viewed from the right angle. These instances highlight the clever and sometimes cheeky strategies some adopt to bend the rules.
California's DMV Rules
California's DMV leaves no room for ambiguity when it comes to vanity license plates. These plates must contain at least one letter or number and should not exceed seven characters. Offensive language or images are strictly prohibited, ensuring a level of public decency and respect.
The Reflective Message
The brilliance of this provocative license plate unfolds when observed through a side or rear-view mirror. In stark capital letters, the plate spells out "A**hole," a startling revelation that is sure to elicit disapproving looks from fellow drivers.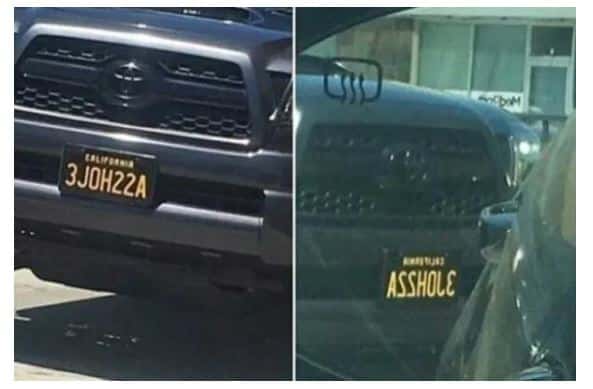 Awaiting the DMV's Verdict
The fate of this unconventional license plate now rests in the hands of California's DMV. Given its offensive nature when reflected, it's likely that authorities will take action to revoke it, necessitating the driver to replace it. The question remains: will this driver opt for a less provocative message or find another creative way to leave their mark?
In a world where expressions of individuality sometimes push boundaries, this episode serves as a reminder of the power of words, the limitations of rules, and the myriad ways people seize opportunities to stand out, even on the bumper of a pickup truck.