Unusual Incident on a Bus: Passenger Uncovers Driver's Infestation
An Ordinary Day with an Extraordinary Discovery
On what appeared to be a typical day, passengers boarded a bus, not suspecting the peculiar incident that would soon unfold. As the driver quietly navigated the route, one observant passenger noticed something rather strange about the driver's attire.
Upon close scrutiny, the passenger was astonished to discover numerous insects crawling around the driver's neck and ears. The sight was alarming – there seemed to be hundreds of these creepy crawlies.
A Tale of Infestation Goes Viral
Overwhelmed by the discovery, the passenger started documenting the unsettling spectacle. This eyewitness, identified as Primo Onipa, later shared the disturbing footage on his Facebook account.
In his social media post, Primo alleged that the insects were lice. He chose to expose the bus driver's unfortunate predicament due to his frustration and revulsion at the sight.
According to Primo, the driver seemed oblivious to the infestation and carried a noticeable odor, suggesting a lack of personal hygiene. The photographs depicted a driver who seemed habituated to his tiny tormentors, seemingly unbothered by their presence.
Online Outrage Over the Incident
The video clip quickly sparked outrage among netizens, with many expressing concern about the hygiene standards of a vehicle responsible for public transportation. Numerous social media users argued that it was unacceptable for a person infested with lice to be at the helm of a bus carrying several passengers.
Understanding the Nuisance of Lice
Lice are microscopic parasites that reside on the scalp, thriving on human blood. When feeding, they inject saliva into the skin, resulting in the characteristic itching sensation associated with infestations.
Typically, a louse resembles a sesame seed in size, sporting a grayish-brown color. They lay their eggs, or nits, close to the scalp for optimal temperature conditions, often favoring areas behind the ears and the back of the neck. Initially, the infestation may not cause any itching, but scratching can lead to secondary infections.
Due to their small size and rapid movement, lice are challenging to detect. However, one way to 'trap' them is by using adhesive tape over the affected area.
The Impact of Lice Infestation
Despite their small size, lice are notorious parasites, often having a negative impact on a person's self-esteem and self-image. However, it's essential to debunk the common misconception associating lice with poverty or poor hygiene. Contrary to popular belief, lice can infest even the cleanest individuals. The primary concern with lice is their potential to transmit various diseases and their person-to-person contagion.
Documented Evidence of the Infestation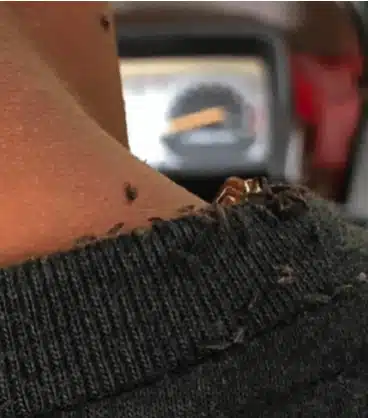 Images of the bus driver, showcasing his infestation with hundreds of lice, were shared widely. Unfortunately, the original video has since been removed by the uploader.
[Unfortunately, the original video has been removed by the uploader.]
The encounter serves as a stark reminder of the importance of personal hygiene, especially for those in public service roles. It also highlights the need for more awareness about the prevention and treatment of lice infestations.